Three Moods of Summer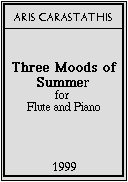 Composed during the summer of 1999, Three Moods of Summer was premiered on October 5, 1999 by Penelope Clarke, flute and Joy Fahrenbruck, piano in the Jean McNulty Recital Hall, William H. Buset Centre for Music and Visual Arts, Lakehead University, Thunder Bay. Ontario. The three movements are:
I. Playful

III. Mood Swings

Score and part available from the Canadian Music Centre or the composer.