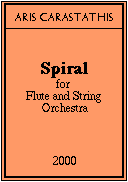 Spiral for Flute and String Orchestra was commissioned by the Louisiana Sinfonietta for its 2000-2001 Concert Season. The work is composed in an eclectic style combining old and new compositional techniques. Virtuosic, asymmetrical solo passages are interspersed with traditional chordal sections, and atonal sonorities are often contrasted by somber modal harmonies.
The premiere of this work took place on January 14, 2001 in Baton Rouge Louisiana, performed by Sarah Beth Hanson, flute and the Louisiana Sinfonietta, conducted by Dinos Constantinides.
Score and parts available from the composer. or the Canadian Music Centre.