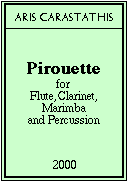 Pirouette explores elements of controlled indeterminacy and serves as a vehicle for complete involvement in an ensemble performance. It is necessary for each performer to be able to track all the parts as (s)he relies heavily on cues from the other performers. As there are certain freedoms in the interpretation of this work, performers become involved in its creation as well as in its performance. There is a mixture of tonal and atonal elements, tone colours, and special effects.
The title of this work was inspired by the infamous caught-on-camera image of the late Pierre Trudeau performing a pirouette in front of media reporters. Quite the revolution! . . .
Pirouette was commissioned by the Canadian Music Centre as part of the Ontario region New Music for Young Musicians special Millennium Project. The work was composed between September and November 2000.
Score and parts available from the Canadian Music Centre or the composer.